THE ART OF DESIGNING AND DEVELOPING RESIDENCES WITH STRONG TIES TO COMMUNITY
P3 Developments prides itself in creating state-of-the art developments, incorporating tenant-centric design elements, which cater to modern-day life and create a sense of home with ties to the community. Each P3 development features site-specific works by local artists that tell a story and create a link between the new dwelling units and the community in which it is based. Architecture, interior design, functional design and landscaping are carefully considered to reflect the tenant base and the development's place within the community in which it is situated. In this post, we are proud to highlight The Halo and its stand-out design features.
The Halo
The Halo is a development offering 405 premium and luxury rental units and 8,400 square feet of premium commercial space. Not just a place to live, The Halo is a place to experience art, design, vitality and opulence in every aspect, while enjoying the convenience of modern amenities and incorporation of cutting-edge technologies.
Tenant-Centric Design As A Cornerstone Of Development
The user experience ultimately drives our design process and philosophy. The Halo's 405 suites are not designed with a one-style-suits-all approach; rather, we designed the buildings with a view that the Halo towers constitute a diverse community in terms of age, life stage and family size. By offering 12 different floor plans, ranging from 585 square foot one-bedroom suites to 1,892 square foot three-bedroom two-level penthouse suites, P3 Developments ensures that each tenant feels comfortable and satisfied in their new home. In addition to wide array of floor-plans, the suites include a variety of finishings, ranging from alternate millwork selections and different colour accent walls, ensuring tenants do not compromise personal style and taste while renting. Other design considerations include the size and placement of windows, driven by the situation of the building on the site, in order to promote a feeling of spaciousness and maximize natural light, recognizing the importance of flex live-work spaces in today's society.
The Halo's common areas reflect the same design philosophy as the individual suites. The big, expansive lobby provides a boutique hotel experience, including a concierge and plenty of comfortable seating, perfect for relaxed conversations and an extension of one's living space. Despite the lobby's large size, the finishings, including unique wall coverings, furniture textiles, flooring choices and millwork, create a sense of luxury and warmth, distinguishing the Halo from its generic neutral counterparts.
Art As An Impetus For Thought, Reflection And Discussion
The round-about driveway will feature a commissioned stainless steel sculpture designed and created by local artists Darren Sakwi and Gerry Gyles. The exterior pattern and ombre effect of the modular wall panel system, with the glow of the yellow feature ribbon, as well as carefully considered landscaping, create a welcoming exterior which sets the tone for the unique design offering that greets tenants and guests alike with a feeling of "You Have Arrived!" as they enter the building. We strive to create an ambiance for heartfelt conversations and exchanges of ideas and a space that complements the human experience.
Functional Design Delivers Modern-Day Conveniences
In addition to its visually striking design, the Halo offers high-end amenities designed to cater to its diverse tenant base. The heated, underground parkade offers a complimentary car and pet wash station, making it easy for residents to keep their vehicles and furry friends clean and happy. The building also features both indoor and outdoor pet areas, providing a comfortable and convenient living experience for pets and their owners alike.
On the mezzanine level, residents will find a state-of-the-art fitness facility with floor-to-ceiling windows that offer views of the front courtyard, where the custom steel sculpture will be featured. Equipped with top-of-the-line equipment, such as Peloton bicycles, the gym also provides all tenants with access to Peloton's extensive library of workouts.
The main floor also offers 8,400 square feet of prime commercial space which is expected to attract high-quality commercial tenants who can provide valuable amenities to the building's residents, such as retail shops or restaurants. The availability of the commercial space on the main floor adds another level of convenience and comfort to the building's already impressive array of amenities.
At P3 Developments, we take great pride in offering a show-stopping, sexy and thoughtfully-designed building to the Winnipeg market that truly sets itself apart from the rest. Our development team is committed to staying ahead of global building trends and technologies, which is why we regularly attend global design and real estate conferences to learn from the best in the industry. This inspiration, coupled with our deep understanding of the local market, enables us to strike the perfect balance between form and function, all while keeping the needs of our tenants at the forefront of our minds.
From conception to execution, our team leverages cutting-edge tools and technologies to ensure that our developments are not only aesthetically pleasing but also built to stand the test of time. We approach every project with a long-term investment view, ensuring that our buildings remain valuable assets for years to come. At P3, we're committed to delivering exceptional living experiences to our tenants, and our community and our beautifully-designed buildings are just one of the ways we do that.
For more information about The Halo, please visit: https://www.thehaloapartments.com/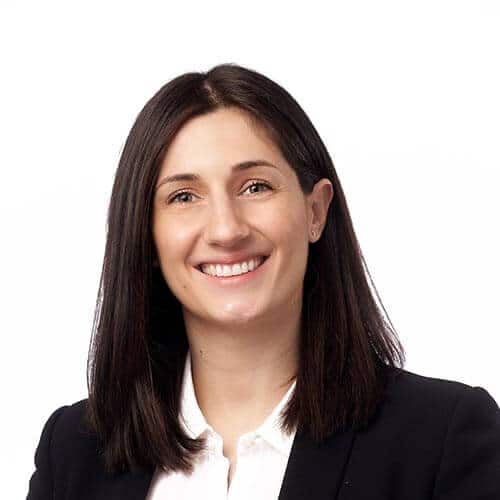 SONJA TUNOVIC, CPA, CA
Senior Manager, Development
Private Pension Partners Developments